ATTENTION: The validator of Rundfunk und Telekom Regulierungs-GmbH (RTR) is currently experiencing malfunctions and is therefore leading to incorrect validations. RTR is aware of this and corrections are probably in the works. Only RTR can provide further information on this, as we are not involved in the application. We recommend the use of the EU Validator.
Our qualified electronic signature (QES) meets high security standards. Signatures of documents signed via notarity can be checked for authenticity with the following tool:
https://ec.europa.eu/digital-building-blocks/DSS/webapp-demo/validation
An important note: Unfortunately, the EU validator often throws up the error message "totally failed" at first glance. This is usually due to the fact that a page with the certification clause was added after the signature.
If you divide the file into the individual signature sections, you can see in the EU validator that all signatures are valid. The signature sections can be displayed with Adobe Acrobat, for example: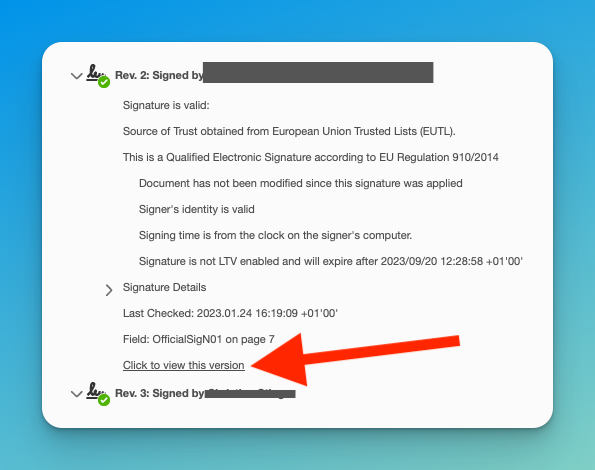 These signature sections can then be stored and individually verified with the EU validator.
Further information on the status of the RTR: https://trustservices.swisscom.com/status/2023-01-12-rtr-validator-stoerung/